About: SoHo neighbourhood and the artists
Video of the river in the SoHo neighbourhood
Practice
restorying, drifting with the river, was a creative rehearsal and performance that took place in the SoHo (South of Horton) neighborhood in London Ontario.  SoHO has existed within the same boundaries since London's inception in 1840. Originally named St. David's Ward, this neighbourhood is bordered on the north by the CN railroad tracks parallel to, and north of Horton St., on the east by Adelaide St., and on the south and west by the Thames River, originally called The Antler River or Deshkan Ziibiing in Chippewayan, the aboriginal history stretching back for at least eleven millennia. Its 150 year colonial history includes its early days as a place of refuge on the Underground Railroad, to housing one of the City's major medical facilities, to being located along the edges of the downtown and the Thames River. These factors have given this neighbourhood a prominent role in the development of the City.
Ruth, Billy and I grew up in the neighbourhood. As part of the process we walked the streets and trails along the river every day.
We often rehearsed in the playground in the park by the river. There is a bouncy rubber tire floor that we could move on while Ruth's kids played.
We were constantly trying to figure out how to rehearse and plan with the kids around. Ruth could not afford to have day care all the time. We wanted kids at the performance and so we integrated them when possible into the rehearsal process.
Questions:
What happened here? What needs to be remembered, restored,
or conserved? How do we connect to the polluted river that runs through this neighbourhood? What happened here? What and whose stories have been erased?
What do we learn from the Indigenous people's relationship to this places over time and into the present; what are the dissonances between Indigenous and settler epistemologies, the thinking and deeper assumptions behind relationships with place?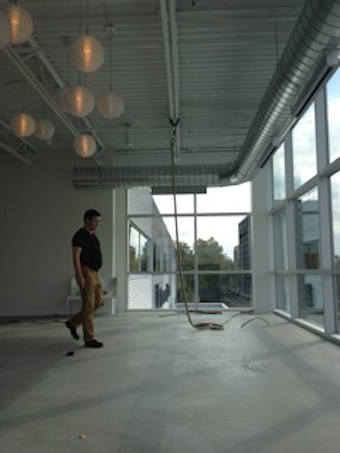 BIOS:
'Re-storying'
drifting with the river
calling all to engage: collaborating – performing – witnessing
how does a performance event serve as a critical intervention examining our relationship to this place? 
how do we re-story settler-indigenous her/history? 
how do we open to this encounter? 
Artists' Bios
Ruth Douthwright
Born and raised in London Ontario I spent my early years creating, playing and performing with a SOHO based community. My professional studies led me to Montreal where I trained in contemporary dance and somatic practices including Body Mind Centering and Continuum. Continued studies and performance led me to Japan to study at The Body Weather Farm and as a guest artist at The Kyoto Arts Center studying Noh Theatre, Utai and Kagura. Other highlights include studies and performance projects with Frey Faust and The Nomadic College, The Patria Series with R. Murray Schafer, creating and performing with L'Inattendue Compagnie in Belgium and ongoing site enhanced performance projects with Kevin O'Connor and brother Billy.
Billy Douthwright
I also grew up in the SoHo neighbourhood of London Ontario and am a member of the local First Nation Oneida Nation of the Thames Band. Interests in visual art & design has led to learning techniques of indigenous art forms and studying at the New York Studio School of Drawing, Painting & Sculpture and the Fashion Institute of Technology. The collaborations with Ruth, Kevin & others has, over the past couple of years opened up an avenue of shared rather than private artistic experience. I currently reside in Tiohtia:ke, also known as the greater Montreal region which is unceded Kanienke'ha:ka (Mohawk) territory.
Kevin O'Connor
I am from the SoHo neighbourhood of London Ontario and now based in the Bay Area of California.  My movement, music and art practice developed with many amazing art practitioners and teachers living here in SoHo.  I now work locally and internationally as an improviser, dancer, choreographer and performance artist.  My works sits at the intersection of ecology, embodying/touch practices and site specific performance.  My practice has been enriched by completing a Bachelor of Science in Ecology from the University of British Columbia, a degree in Circus Arts from the National Circus School of Montreal, a MFA in choreography at the University of California Davis and I am currently PhD candidate in performance studies at the UC Davis.  I have also had the opportunity to learn from and work with  numerous body-based art practitioners around the world. 
Schroeder Nordholt
I trained in classical and jazz piano, composer/instructor/performer for over 20 years. I regularly perform in fine dining, art gallery show openings, weddings and corporate functions. I live with my wife and kids in Killaloe Ontario – and love to hit the road for adventures like this awesome collaboration with Ruth, Kevin and Billy, so if you ever need a piano man….
Liz Akiwenzie
I am Ojibway and Onieda , Nisitange Kwe is my Ojibway name meaning "understanding women"  My Onieda name is te ye yato leh te, which means She who sees both sides. I do healing work using Traditional and Cultural Healing Methods, that have been used for hundreds of years by the Ancestors. I have worked in many levels of the systems:  Education, Justice, both federal and provincial, and Health.  I am a Educator of Traditional and Cultural awareness of Aboriginal Culture.  I am the bridge of awaking the people , who do not know or understand Aboriginal peoples history of this Country. I am commitment to awaking all people, so they will better understand the connection that we all have as human beings on Mother Earth. In unity of awaking the people.
Saturday October 19th, 2013
Goodwill 255 Horton Street East, London Ontario
contact: thehubinlondon@gmail.com
phone: 519 204 1958